Article written by: Elyse Umlauf-Garneau – www.sres.org
January is the month when talk turns to resolutions, and magazines and newspapers give readers tips and resources. So here it is.
Decluttering the home often ranks right up there with diets and health on New Year's resolutions lists. This online resource (www.home-storage-solutions-101.com/declutter.html) can help you in your quest for that Zen living environment.
The site offers that classic approach of setting a timer and suggesting that you deal with stuff in a given space for a set amount of time. Somehow its methods do the trick for some chronically disorganized folks.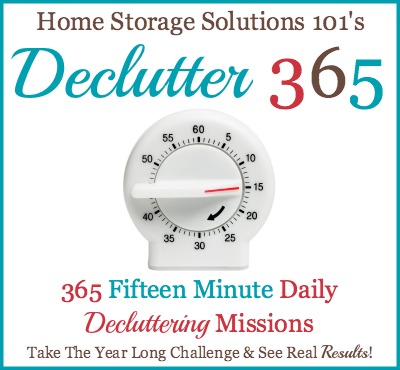 For one, the site provides a calendar of daily to-dos and how-tos for the year. So, for instance, during January there's a mission each week—kitchen counters, kitchen cabinets and drawers, pantry, and refrigerator and freezer. Each day of the week is devoted to an activity associated with that mission, whether that entails purging the junk drawer or making an inventory of the freezer and pantry. If your kitchen spaces are in good shape, you can skip ahead to other months and find help with dealing with dining rooms, bedrooms and paper clutter.
Especially if you are preparing your house for sale this spring or later in the year, this daily decluttering strategy will get your spaces in shape slowly and steadily and without panic.
You can sign up to get weekly reminders or join the Declutter 365 Facebook Group for daily reminders; you can find tips on specific problem areas –the dresser, the nightstand or the bathroom counter; and you can print out monthly calendars, as well as checklists, inventory sheets, and password organizer forms.